Gaming can be a costly hobby, but you can get a gamer the perfect gift this holiday season and save a load of cash if you shop smart.
The first obstacle is knowing what you want. Gaming laptops offer portability and also serve as hassle-free, all-in-one packages—all you'll need to add is a nice gaming mouse, and you have a complete gaming PC setup.
Desktop PCs, meanwhile, lack portability but almost always serve up more gaming performance for less money than a high-end laptop. Pre-built gaming PCs offer the convenience of being ready to go out of the box, and thus are great for a Christmas Day surprise.
But the more tech savvy will prefer to build their own custom PC. It's not as difficult as you might think, and buying your own components using special bundle deals can save a lot of money.
Intel CPUs offer the best performance in gaming FPS across all of your favorite games. Below is a selection of Black Friday deals, including gaming laptops, desktop PCs, and custom hardware bundles powered by Intel processors for every buyer.
Gaming Laptop Deals

Gaming laptops have changed in recent years. Once heavy and cumbersome machines, the modern gaming laptop is slim, sleek, and incredibly powerful. With the right processors, you can get desktop-PC levels of performance out of a machine that'll easily slip into a small backpack.
This lets the hardcore gaming enthusiast take high-end gaming on the road, and when they return home, they can simply connect a monitor, mouse, and keyboard and effectively have a desktop PC experience. And since gaming laptops tend to be very powerful, they're also great for productivity too. Here's a selection of gaming laptops to consider this holiday season:
Shop all Intel-powered Gaming Laptops
Alienware M-Series Laptops

Alienware m17 R3 17.3-inch (300Hz) – Sale Price: $1,899.00
Alienware m15 15.6-inch (300Hz) – Sale Price: $1,749.00
Alienware m15 R3 15.6-inch (144Hz) – Sale Price: $1,549.00
Alienware's m-series of gaming laptops package high-end components into impressively thin all-metal frames with a sleek, edgy design and tasteful RGB lighting accents.
The m17 is an excellent choice for competitive gamers due to its 300Hz 17-inch screen, RTX 2070 Super graphics card, 16GB of RAM, and Intel Core i7-10750H CPU that's more than fast enough to drive those crazy-high frame rates along with ray tracing and DLSS. There's also a 15-inch version with all the same lofty specs for those after a little more portability.
The third option in our list is a more budget-friendly m15 that comes with a 144Hz display with an RTX 2060 with the same fast Core i7-10750H CPU.
Acer Predator Triton 500 Gaming Laptop

The Acer offers an amazing bang for your buck. While some laptops use expensive materials to cater to the (expensive) premium market, the Acer focuses on what matters most to the majority of gamers—raw performance. The Triton 500 is cheaper than the 300Hz Alienware m15 but with almost identical specs—a fast Intel Core i7-10750H paired with an Nvidia RTX 2070 Super and 16GB of RAM, all powering a super-fast 300Hz 15-inch display.
Acer Nitro 5 Gaming Laptop

It can be tough finding a powerful gaming laptop for under $1,000, but here's a perfect example. Acer has equipped the Nitro 5 with a Core i7-9750H, which is a great CPU for 1080p gaming on its 144Hz refresh rate display. The RTX 2060 graphics is impressive at this price point, with support for next-gen rendering like ray tracing and DLSS. 16GB of RAM and a 256GB SSD round out this value package.
OMEN 15 Gaming Laptop

The OMEN by laptop maker HP represents another excellent value proposition. It has the 300Hz refresh rate display and the performance to match thanks to its RTX 2070 Super Max-Q, Intel Core i7-10750H, and a massive 32GB of RAM. This is packaged in an all-metal design with a nice brushed look, giving the OMEN a premium look without the premium pricing.
Gaming Desktop Deals

Desktop gaming PCs may not be as portable as a gaming laptop, but they tend to offer better performance for your money. Top PC manufacturers also offer PC case designs and professional builds that look amazing, and can really make all the difference as the centerpiece in a fancy gaming setup.
Shop All Intel-powered Gaming Desktops
Dell G5 Gaming Desktop

The Dell G5 achieves that edgy "gaming PC" aesthetic without being too in your face. Inside, an Intel i7-10700F, 16GB of RAM, and GTX 1660 Ti graphics card give you enough performance to run modern games in their high graphics settings at 1080p or 1440p resolutions. And at under $1,300, it comes at a manageable price with great upgrade potential down the line.
Save with CPU Bundle Deals for the Custom PC Build

Building your own custom PC is the way to go if you want the absolute best performance for your money. You will typically find better components than you might get in a lot of pre-built PCs, and it also allows you to cherry-pick the parts that suit your performance or design goals.
To save even more cash, it's a good idea to seek out bundle deals that group together essential components for less than their sold-seperate price. This not only saves you money but also helps with getting components that you can be certain will work well together. Intel offers several motherboard and CPU bundles on Amazon here, and below is a selection of current deals to consider.
Intel Core i7 9700K + Asus Prime Z390-A Motherboard

If you're building a high-performance gaming PC for playing at 1440p resolutions, this bundle is ideal. The Intel Core i7-9700K is a fast CPU, with 6 processor cores running at up 4.9GHz. The Asus Prime motherboard will allow you to extract the best out of that CPU, with a full suite of smart overclocking features, M.2 slots for fast solid-state storage, and USB 3.1 support.
Intel Core i9-9900K + ASUS Prime Z390-A Motherboard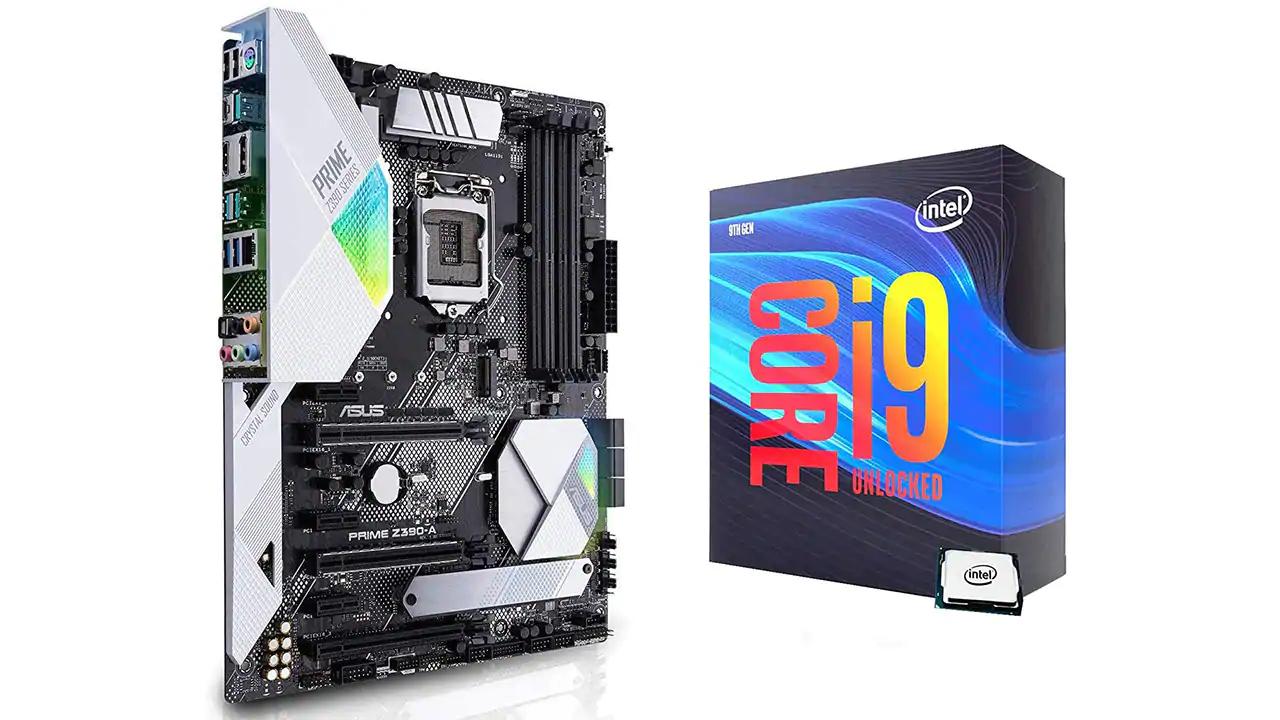 The Intel Core i9-9900K is among the most premium gaming CPUs available today, with 8 cores and 16 threads running at the fabled 5GHz sweet spot. It's also an unlocked CPU, so pairing it with the Z390-A gets you access to its full overclocking potential. This is for your high-end 4K gaming PC.
Additional Savings Opportunities
Those are some stand-out discounts available for gaming PC shoppers right now, but don't forget that there are still plenty of great deals to come during Black Friday Week, and you can check out all of Intel's CPU offerings right here.
Seasoned techies will also be looking forward to Cyber Monday (November 30th), when even more tech-focused sales will be offered. Keep track of gaming desktop PC deals here and gaming laptop deals here.
---