Consider yourself a big saver? Well, the good news is that Americans are doing pretty well in that regard. In fact, our big survey aimed to uncover data around how people in different states are handling their finances in light of the pandemic.
Our survey, conducted by OnePoll on behalf of Slickdeals, reveals how Americans are spending and saving during these unprecedented times.
Which States Save the Most?
The survey, which polled 5,000 Americans (100 from each state), aimed to see who was the most savings-conscious.
So, who saves the most? Drumroll, please…
New Yorkers!
Yup, they're officially the most savings-conscious residents, putting away 14.5% of their income towards savings goals or towards investment accounts. Georgia got second place at 12.9% with Texas, Ohio and California close behind.
States saving the largest percentage of their incomes
New York: 14.5%
Georgia: 12.9%
Texas: 12.7%
Ohio: 11.6%
California: 11.5%
Florida: 11.4%
Hawaii: 10.8%
Arizona: 10.5%
Illinois: 10.5%
Pennsylvania: 10.3%
New Jersey: 10.3%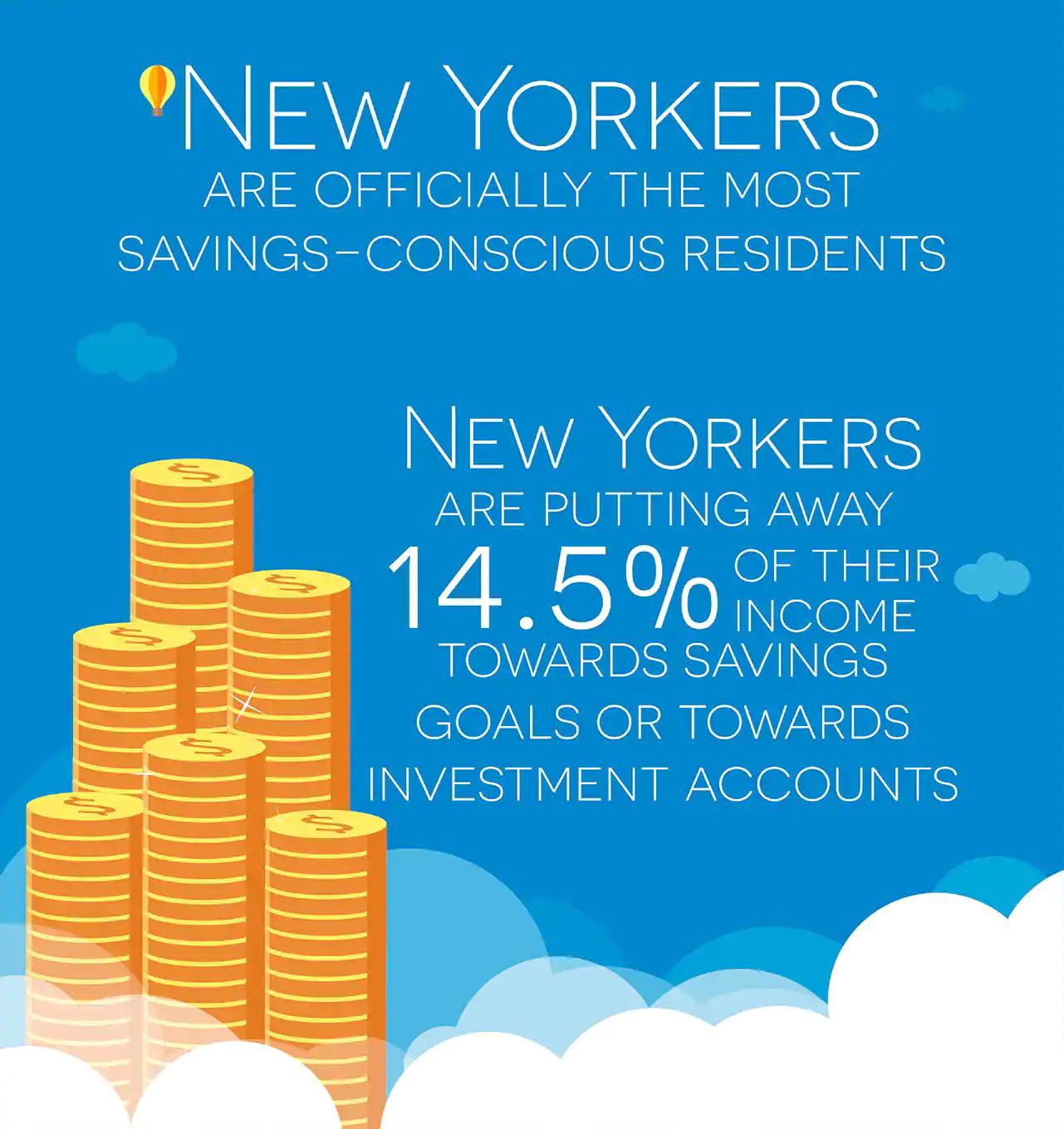 Which States Save the Least?
As for the rest of the nation, most residents from the remaining states put away less than 10% of their incomes.
Sure, impulse shopping for things that you've had an eye on for a while (our May survey found that 21% of Americans were doing exactly that) may temporarily relieve anxiety when your stress levels are through the roof. However, if you think about it, having a stash of cash in a bank account in case things don't bode well can help you sleep better at night.
States saving the smallest percentage of their incomes
Vermont: 6.5%
Idaho: 6.7%
Tennessee: 7%
Maine: 7.1%
North Dakota: 7.5%
Mississippi: 7.5%
Michigan: 7.9%
Missouri: 8.0%
Wisconsin: 8.1%
Delaware: 8.1%
Percentage of Income Saved vs Total Dollars Saved
Now our survey findings don't suggest that a lower savings percentage meant saving less overall. In fact, Americans surveyed tucked away an average of $17,135 into a savings or investment account.
Residents of the Mount Rushmore State — aka South Dakota — report putting an average of $24,497 into savings. West Virginia, on the other hand, saved the least overall with an average of $6,936. Tennessee residents came in close at $9,628.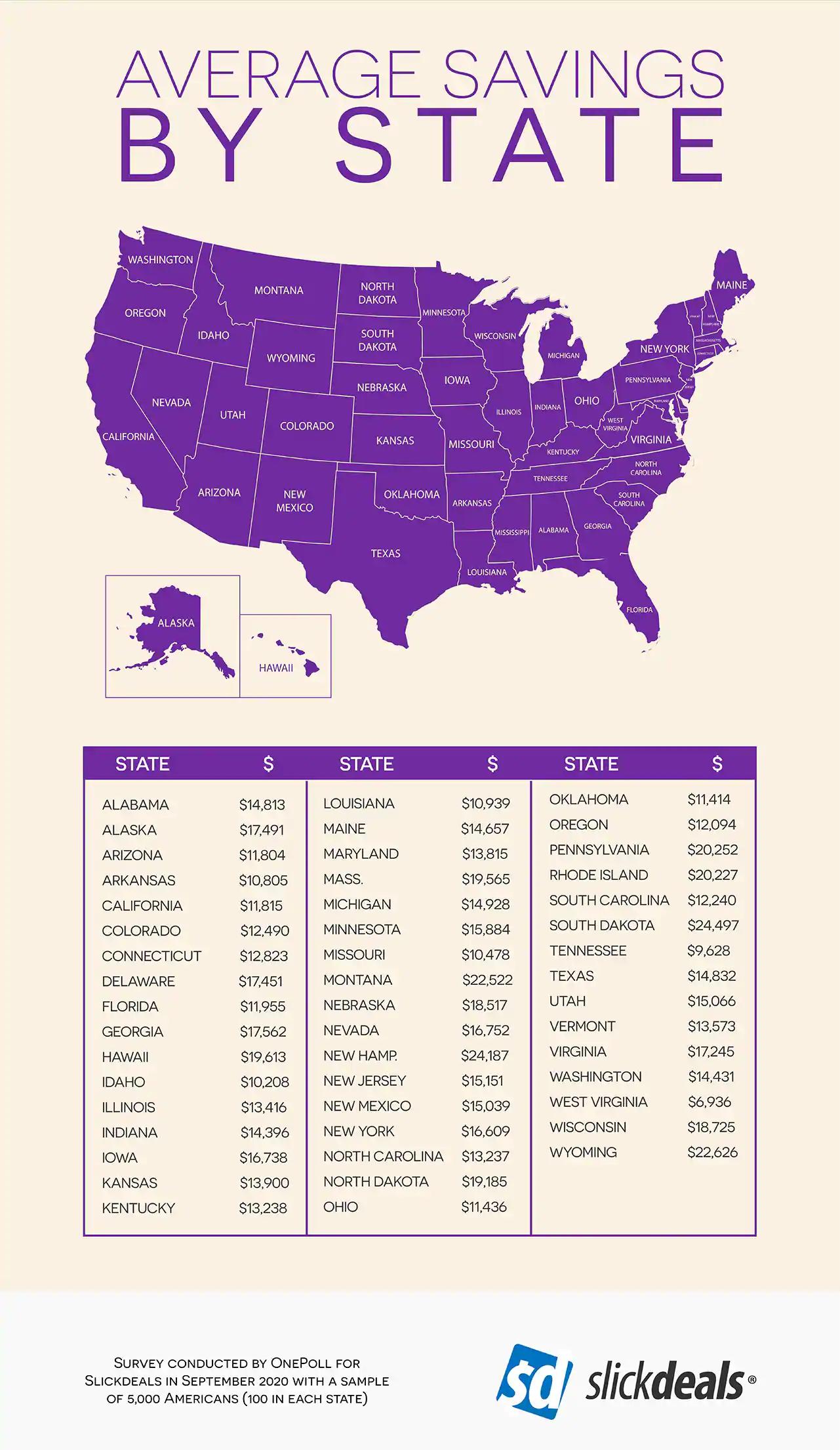 Americans Are Saving Differently
No matter how much those polled saved, what matters is your attitude towards savings. Perhaps many of us didn't see the importance of saving for a rainy day or for big ticket items. If there is a silver lining during the pandemic, it's that it's opened our eyes to ensuring we're in a better financial position from now on.
The good news is that our survey finds a fundamental shift in how Americans are saving differently in the wake of COVID-19. For example, 58% of survey respondents report COVID-19 has completely changed how they approach savings, with 53% saying they've started saving for different things since the pandemic began.
The survey discovered that the top savings priority was for any type of emergency (32%), followed closely by retirement (31%), with a new car coming in at a distant third (20%) — no impulse shopping here!
It also revealed that 58% of Americans are cutting back on their spending to reach their savings goals. That means being seen as frugal is no longer a negative trait — just look at our survey back in August, where two out of three respondents considered being called frugal a compliment.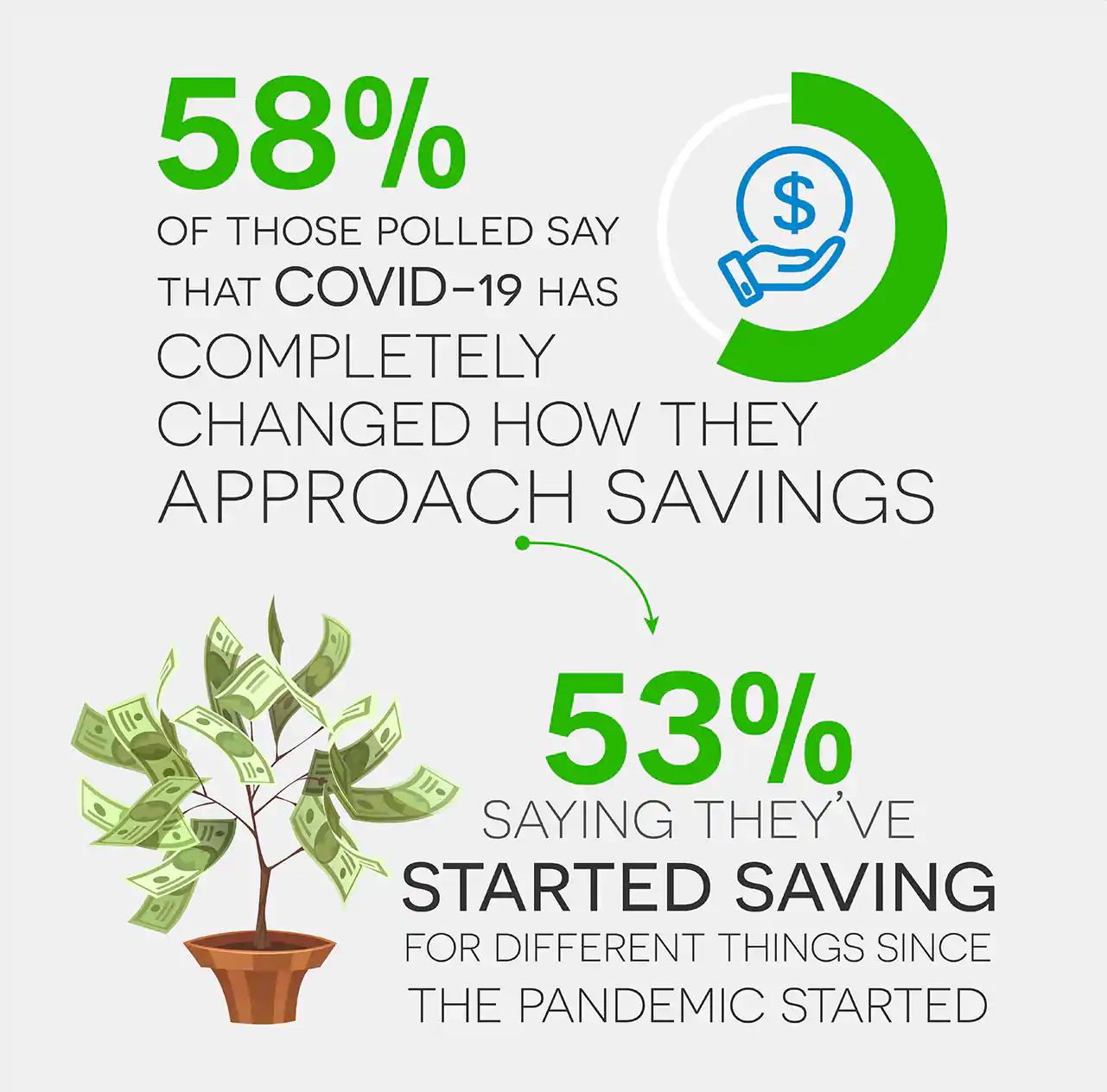 So what frugal things are survey respondents doing?
Of those cutting back on spending, taking advantage of deals and discounts instead of buying at retail price (45%) was a popular method, as well as getting less take-out (44%) and making coffee at home rather than getting their caffeine fix from a pricey café.
"Cutting back on your spending does not always require drastically altering your lifestyle," said Ryan Tronier, senior personal finance editor at Slickdeals. "Once saving money becomes a priority, you can start to make minor changes that start to add up over time."
Even more shocking is that just over one in three Americans polled (35%) think they will be able to retire some day.
Gen Z and millennial respondents reported being the least likely to feel as if they'll be able to retire some day in the future.
Residents of Louisiana and Maine were found to be the most likely to think they will never retire, whereas New Yorkers and Georgians were some of the most confident that retirement was in their future.
Tronier added, "Making smart purchase decisions and looking for deals or coupons is a great way to accelerate your savings. At Slickdeals, we've assembled the largest community of savvy shoppers so users can score the best deals on the best products, with insight from millions of real people."
How You Can Save Cash
Even if you can't save five figures like some of our survey respondents have, it doesn't mean you can't try. It sounds cliché, but every dollar does count.
One of the best ways to start is to track your spending habits. There are a number of popular money-saving apps that can help you understand your financial landscape. In fact, Trim automatically negotiates lower bills and cancels unwanted subscriptions with a simple click.
Once you have an idea of what you're spending, see where you can cut back — even temporarily — so you can stick some of that savings into a separate account. Consider setting up automatic savings deposits from your paycheck as well.
Another way to start saving is to begin earning more money. No, we're not talking about working at all hours or starting a new side business. There are simple actions you can take like opening a new bank account. Many banks, in an attempt to get new customers, are paying out cash bonuses as long as you meet certain requirements.
For example, Chase Bank is currently awarding new customer bonuses for both checking accounts and savings accounts. If you think about it, opening an account doesn't take that much effort. Even if you can't afford to stash away 14% of your income, there are plenty of other bank bonus offers that might be right up your alley.
Just think about how much better you'll be able to sleep at night knowing that you've got money set aside in case of the unexpected.
---
Any product or service prices/offers that appear in this article are accurate at time of publish, and are subject to change without notice. Please verify the actual selling price and offer details on the merchant's site before making a purchase.